"Black Madonna of Częstochowa" or "Our Lady Częstochowa", widely referenced when discussing classical Black Madonna portraiture.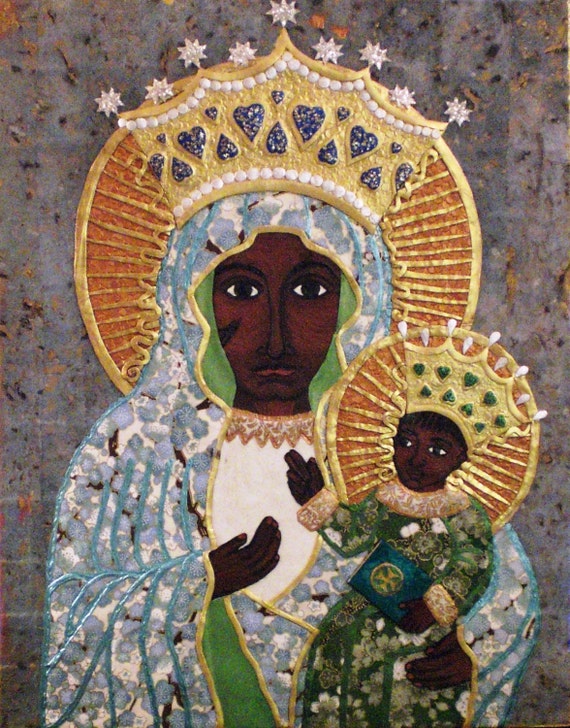 The Black Madonna first appeared in paintings and statue form in almost every major European country between the 12th and 15th century, most notably donning Cathedral walls or commissioned religious paintings. The relative mystery surrounding the introduction of these 'dark-skinned' Virgin Maries provoked, and continues to provoke, transnational curiosity and intrigue – not only due to their widespread presence in countries from Poland to Spain, but namely the implications that complexion engendered, for issues of race and religion globally.
For the majority of these images, it is unclear whether Mary's dark complexion was anyone's intention. Several theories (introduced by French scholars from the 1930's to 70's, and notably by an American Scholar names Leonard Moss in the 50's) question whether it was the painter or sculpture's influence that resulted a dark skinned Mary, or processes of weathering (soot, paint erosion, mismanaged restoration, general damage etc.) that colored the faces of the once 'white' Madonnas.  Moss further sought to categorize these images, separating those Madonna's perhaps intended to be 'racially black', from those 'symbolically darkened' or 'unintentionally darkened/weathered'.
On the one hand, these categories may have significant implications for the understanding of the works – on the other, whatever process created these images seemed irrelevant groups of different origins throughout history, racially and religiously, who have imbued the Black Madonna's with significance that was perhaps never intended for them. Those reactions in turn increased the transnational stake of images that were already, and quite mysteriously, carrying a widespread presence in various countries. African portraiture for instance, was created that drew inspiration from the works, and incorporated not only dark complexion but African ancestry into the presentation of the Virgin Mary. Religious dissidents the world over hailed the Black Madonna as the antithesis of the 'white, immaculate' Mary, imbuing it with certain "Mother Earth" connotations, and even motifs reminiscent of The Feminine Mystique before it's time. It has even been posited that the Black Madonna represents a kind of absorption of pagan gods into Christianity. Pilgrimages are still made by global populations to the sites where these Madonna's are erected, or the museums that house them.
Contemporary re-imaginings of the Black Madonna have included new paintings with added relevant political motifs, entire Pinterest pages dedicated to photographs pertaining to the African femininity, and popular books or films like Sue Monk Kidd's The Secret Life of Bees, which make reference to the image in both a racial and religious context.
Tayryn Edwards